Before the news has been in popular use glass beads, today saw a relatively fun and interesting article to share with, look for fun, can not lose innocence.The articles from DARK ROASTED BLEND(http://www.darkroastedblend.com/2014/08/futuristic-sofil-1953-vehicle.html)
One of the outrageous / beautiful Tour De France promo vehicles, designed by Felix Aublet
This aerodynamic glass-bubble bus was designed by the famous French architect, painter and industrial designer Felix Aublet to promote the clothing, wools and yarns SOFIL company; it was based on a Saurer bus chassis and manufactured by the Heuliez coach-building company: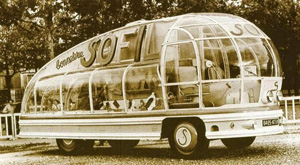 Part of the long, illustrious tradition of eye-catching promotional vehicles (of which the most outrageous were built in France for such epic sport events as Tour De France), this marvel of engineering had bent acrylic and glass panels, which would light up in different colors at night - promoting the rainbow colors of famous SOFIL array of yarns - plus it would broadcast music by Radio Luxembourg and other stations!
This is similarly fantastic-looking 1952 SOFIL model: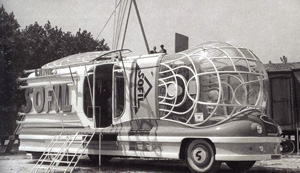 There was also a shorter 1952 vehicle, similar to Sofil Sauer-based model, but having a shorter Renault 2.5T chassis (built by the Augereau coach company):



The glass-bubble was originally designed to be brightly-lit stained glass structure!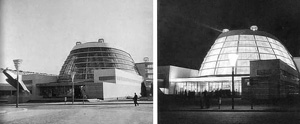 One can see certain SOFIL-bus design elements in architecture of Felix Aublet's "Pavillon de l'air" (much influenced by modernism and the "Le Corbusier" movement):
Felix Aublet: "Coaches who are today as vehicles of advertising foreshadow tomorrow's architecture."
Certainly, one the most remarkable vehicles built in the 1950s was this BIC-company promotional bus, again designed by Felix Aublet: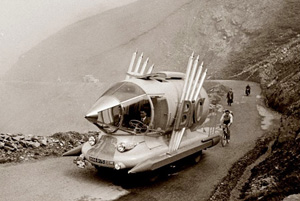 It was also commissioned by BIC in the early 1960s, with a more streamlined, Rocket-Age updated shape: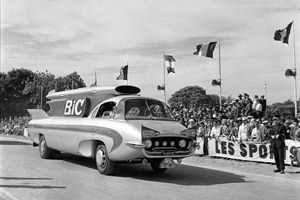 Here are some other fantastic promotional vehicle used in France in the 1950s and 1960s: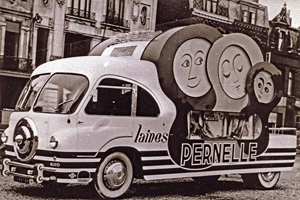 We will be covering some of them in the future, they are amazing enough to merit an article devoted to them.
And we finish with perhaps the most wild-looking concoction designed by Felix Aublet - Solitaire 1952 Promotional Vehicle: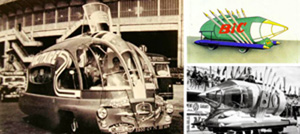 Read the above article, is not it kind of you to come up with a wonderful trip, the original glass bubble can have such a beautiful structure.